Retreat in Cypress Hills, Saskatchewan
May & October Retreats Available
Making time in your busy life to go on a retreat is a gift to yourself. It gives you the opportunity to invest in yourself and your growth. A retreat gives you a chance to breathe, pause and look at your life from a new perspective; to reveal answers to questions that have perhaps been troublesome. Taking a retreat is a nurturing "time-out"; a time to rejuvenate your mind, body and spirit; to re-connect with your authentic self; to re-connect with nature; to reassess what you truly value and to consider if you are living your life in alignment with those values.

Two retreats are offered each year - one in the Spring and one in the Fall. These retreats are held in a place of high spiritual and energetic resonance. In this supportive field of energy you can truly focus on yourself and what you need to move confidently forward on your path.


Retreat participants return home feeling empowered! Tools and techniques learned are easily incorporated into daily living and with continued practice, create lasting results. When you invest in healing the inner you, your outer world unfolds in miraculous ways!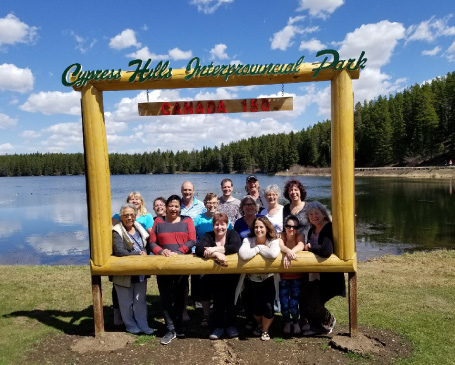 Retreat Includes
The beautiful Cypress Hills, offers an unexpected landscape with its towering hills, lush forest and serene waters surrounded by prairie.
Within this tranquil setting you are offered approximately twenty-two hours of guided experience.
You will receive a blend of interactive processes, guided meditations, movement, exploration and time for self-discovery, healing, clarity, reflection, meditation, prayer and journaling.
A variety of practitioners with differing modalities are invited to participate thus creating an energetic balance with a specific focus.
Delicious vegan friendly breakfast, lunch and dinners.
"I came away with a better understanding on where my journey is taking me." -LN

"It helped me remember how much I love life, how to retain my balance and knowing that I am OK!" -KC
Retreat Package cost includes approximately 22 hours of sessions, experiences and activities created to help you step into your highest potential.
All meals will be provided including dinner Friday evening, breakfast Saturday and Sunday, and lunch on Saturday, as well as snacks, Structured Water, tea and coffee.
Space is limited, and places will be held only upon receipt of payment in full or part.
Upon receipt of payment, you will receive a confirmation email. A week prior to the retreat you will receive an email with directions to the Cypress Hills InterProvincial Park and The Resort at Cypress Hills with accommodation information. You will also receive the finalized schedule of events and a list of what to bring.
Retreat Price DOES NOT include: Accommodations at the The Resort at Cypress Hills: The Perfect Spot. Accommodation will be booked for you; payment arrangements to be made with the resort upon arrival.
Total Price: $444.00 (plus GST & PST)
Two Payment Option is available: $222.00 (plus GST & PST) to be paid upon registration with second payment of $222.00 (plus GST & PST) to be paid one week prior to the event. Early bird cost of $400 (+ taxes) if paid in full one month prior to the event.
Cancellation PolicyIf you cancel one month prior to the start date of the Retreat, all fees will be refunded, except for a $100 administration fee. After that date, fees will only be refunded (less the $100 administration fee) if there is a waiting list, and someone else fills your spot.

All cabins are rustic, freestanding units which have their own parking, firepit, deck and semi-private outdoor space. All cabins are fully furnished light housekeeping units featuring:
● fully equipped kitchens
● full bathroom with linens
● queen and double beds with linens and pillows
● generous sitting area with a sofa bed
● large deck with a beautiful view
COST breakdown:
Each cabin is shared by 2 occupants (or couples) at $140/night plus gst (7.21) pst (8.40) and marketing fee (4.20) for a total of $159.81/night. When split two ways this is also the total per person for the entire weekend (two nights).
Accommodation Price Estimate:
A block of two-bedroom cabins are set aside for retreat participants. Your total cost for accommodation for the weekend retreat (providing you are sharing) is $159.81.
Check out the cabins and other accommodations (townhouse or the lodge) please visit
resortatcypresshills.ca
---
---
---
Register now to save your spot!